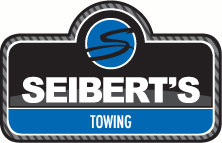 SEIBERT'S TOWING
 Check the City of Richmond website to locate your vehicle
Since 1976, Seibert's Towing has provided the highest quality towing services throughout Central Virginia. We specialize in municipal contracts, roadside assistance and private property towing. With a convenient, 24-hour live dispatcher, skilled towing professionals and unparalleled customer service, you can rest assured that Seibert's Towing will have you back on the road in no time!
Seibert's Towing is fully insured and a member of the Better Business Bureau and serves all of your towing needs in Richmond, Chesterfield, Henrico and Hanover.  With Seibert's, you can be assured of working with an established company that goes beyond industry standards to satisfy their customers.
Roadside Assistance and Towing Services: Jump-starts, tire changes, lockout service, disabled and accident towing. We're not going to leave you stranded! Call our 24-hour live dispatcher, and we will be there to assist you, right away.  Our customers will never get a busy signal or have to leave a mesage.  We are here to help you!
Seibert's Towing has an A+ Rating from the Better Business Bureau.

The following statement is from an out of town customer whose vehicle was towed after an accident in Richmond. 
"Seibert's Towing is a very efficient company. They handled my business in a timely and professional manner.  They went above and beyond my expectations, and my experience with them was a positive one.  I am so grateful that I've done business with you all." – Paulette