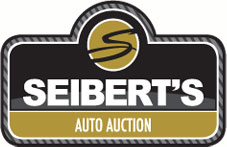 AUTO AUCTION LIST
CURRENT ACTION LIST – Updated last 6/11/2021.
THE NEXT AUCTION WILL BE ON – Monday, 6/14/2021. 
GATES OPEN AT – 9:00 AM. 
AUCTION BEGINS AT – 10:00 AM.
SPECIAL RULES FOR THIS AUCTION:
1. We will practice social distancing and request that bidders maintain a six foot distance from each other and Seibert employees.

2.  Only registered bidders may attend.  No guests or children under 18 years of age.
3.  Everyone entering the auction will be required to wear a face mask.
*Hover to enlarge image, or right click on it and open in a new tab. 
| Image | Lot | Year | Make | Model | Color | Type | VIN | Mileage |
| --- | --- | --- | --- | --- | --- | --- | --- | --- |
| | | | | | | | | |
| | 1001CT | 2002 | Ford | Escape | 4 Door | Silver | 1FMYU04122KB74925 | 209109 |
| | 1002CT | 2002 | Buick | Lesabre Custom | 4 Door | Blue | 1G4HP54K12U165134 | Digital |
| | 1003CT | 2007 | Ford | Edge Se | 4 Door | Black | 2FMDK36C37BB13850 | Digital |
| | 1004CT | 2005 | Chevrolet | Malibu Lt | 4 Door | Silver | 1G1ZU54895F119090 | Digital |
| | 1005CT | 1997 | Mercury | Mountaineer | 4 Door | Black | 4M2DU55P1VUJ27083 | 172296 |
| | 1006CT | 2000 | Ford | Taurus Ses | 4 Door | Gold | 1FAFP55U6YG233162 | 158152 |
| | 1007CT | 2003 | Toyota | Camry Le/Xle/Se | 4 Door | Gold | 4T1BE30K93U205466 | 167182 |
| | 1008CT | 2008 | Ford | Escape | 4 Door | Red | 1FMCU93138KA17543 | 162077 |
| | 1009CT | 2005 | BMW | X5 | 4 Door | Gray | 5UXFA13585LU46695 | Digital |
| | 1010CT | 2007 | Saturn | Aura Xr | 4 Door | Blue | 1G8ZV57717F282952 | 170486 |
| | 1011CT | 2007 | Honda | Civic Lx | 2 Door | Blue | 2HGFG12607H521501 | **385759** |
| | 1012CT | 2004 | Ford | F150 | Truck | Green | 1FTPX12594NA38182 | Digital |
| | 1013CT | 2002 | Jeep | Grand Cherokee | 4 Door | Green | 1J4GW38S02C156796 | Digital |
| | 1014CT | 2004 | Buick | Rainier | 4 Door | Gold | 5GADT13SX42177520 | 200681 |
| | 1080CT | 2005 | Great Dane | 53' Trailer | Trailer | White | 1GRAA062X5D412409 | TMU |
| | 1090CT | 1982 | Renken | 18' Boat | Boat & Trailer | | RBMS1075M82B | TMU |
| | 1 | | Homemade | Trailer | Utility Trailer | Black | N/A | TMU |
| | 2 | 1983 | Bayliner | 19' Boat | Boat | White | 5974 | TMU |
| | 3 | 1976 | Dolphin | 21' Boat | Boat | White | 4233 | TMU |
| | 4 | | Renken | 15' Boat | Boat | | RBMA0653M750 | TMU |
| | 5 | 1989 | Sea Ray | 16'9'' Boat | Boat | | 5967 | TMU |
| | 6 | 2018 | Zhejiang | Geely | Scooter | Black | LB2G9TAA0J1001300 | TMU |
| | 7 | 2020 | Zhejiang Jiajue | Scooter | Scooter | Green | LLPTGKDG0L1A00150 | TMU |
| | 8 | 2003 | Yamaha | Fzs10 | Motorcycle | Red & Black | JYARN07E63A007054 | REBUILT |
| | 9 | 2005 | Yamaha | Xc125v | Scooter | Black | LPRSE13Y25A300295 | TMU |
| | 10 | 2017 | Taotao | ATM50-A1 | Scooter | Black | L9NTEACB3G1001098 | TMU |
| | 11 | 2021 | Taizhou | Wolf RX 50 | Scooter | White | L5YACBPZ0M1111572 | TMU |
| | 12 | 2018 | Zhejiang Jiajue | Scooter | Scooter | Burned | LLPVGBAD2J1F20446 | TMU |
| | 13 | 1999 | Ford | Taurus Se/Comfort/Sport | 4 Door | Green | 1FAFP53S1XA216630 | 223868 |
| | 14 | 2008 | Nissan | Sentra S/Sl | 4 Door | Gold | 3N1AB61EX8L747506 | Digital |
| | 15 | 2000 | Mazda | Mpv Wagon | Van | Gold | JM3LW28G5Y0159379 | SALVAGE |
| | 16 | 2005 | Hyundai | Sonata Gl | 4 Door | Silver | KMHWF25S45A172298 | 149802 |
| | 17 | 2009 | Dodge | Journey Se | 4 Door | Gold | 3D4GG47BX9T548390 | Digital |
| | 18 | 2004 | Honda | Odyssey Exl | Van | Gray | 5FNRL18914B005190 | Digital |
| | 19 | 2002 | Ford | Explorer Xlt | 4 Door | Gold | 1FMDU73W72UA68527 | Digital |
| | 20 | 1998 | Toyota | Camry Le | 4 Door | Red | 4T1BG22K4WU828354 | Digital |
| | 21 | 2000 | Chevrolet | Silverado K1500 | Truck | Blue | 1GCEK19T9YE403573 | Digital |
| | 22 | 2000 | Ford | Explorer Sport | 2 Door | Red | 1FMYU70E9YUA06553 | 241086 |
| | 23 | 2010 | Toyota | Camry/Se/Le/Xle | 4 Door | Black | 4T1BF3EK7AU025955 | Digital |
| | 24T | 2004 | Hyundai | Accent Gl | 4 Door | Gray | KMHCG45C84U537972 | 194523 |
| | 25 | 2001 | Volvo | V70 | Wagon | Silver | YV1SW61R112112295 | Digital |
| | 26 | 2003 | Buick | Lesabre Custom | 4 Door | Blue | 1G4HP52KX3U165203 | Digital |
| | 27 | 2003 | Toyota | Avalon Xl | 4 Door | Silver | 4T1BF28B43U290339 | Digital |
| | 28 | 2004 | Mazda | Mazda3i | 4 Door | Red | JM1BK12F341169312 | Digital |
| | 29 | 1997 | Toyota | Camry Ce/Le/Xle | 4 Door | Burnt/Gold | 4T1BG22K8VU780551 | Digital |
| | 30 | 2008 | Ford | Taurus X Eddie Bauer | 4 Door | Red | 1FMDK08W88GA31015 | Digital |
| | 31 | 2003 | Chevrolet | Silverado K1500 | Truck | Black | 2GCEK19T931377776 | Digital |
| | 32 | 2006 | Dodge | Durango Sxt | 4 Door | Black | 1D4HD38N86F174612 | Digital |
| | 33 | 2004 | Hyundai | Santa Fe Gls/Lx | 4 Door | Black | KM8SC73E24U820235 | Digital |
| | 34 | 2002 | Infiniti | I35 | 4 Door | Gold | JNKDA31A72T031124 | Digital |
| | 35 | 2014 | Ford | Fusion Se | 4 Door | Gray | 3FA6P0HD6ER172933 | Digital |
| | 36 | 1990 | GMC | S15 | Truck | Cream | 1GTCS14E0L2500669 | 198594 |
| | 37T | 2003 | Volkswagen | Passat Gl | 4 Door | Gray | WVWMD63B63P395755 | Digital |
| | 38 | 1995 | Chevrolet | G20 | Van | Green | 1GBEG25Z0SF170111 | TMU |
| | 39 | 2010 | Nissan | Altima S | 4 Door | Gray | 1N4AL2AP4AN411835 | Digital |
| | 40T | 1999 | Dodge | Durango | 4 Door | Purple | 1B4HS28Y4XF583194 | Digital |
| | 41 | 2012 | Chevrolet | Malibu Ls | 4 Door | Silver | 1G1ZA5EU2CF309993 | Digital |
| | 42 | 2008 | Mercury | Mariner | 4 Door | Black | 4M2CU81148KJ36018 | Digital |
| | 43 | 2002 | Chevrolet | Tahoe K1500 | 4 Door | Gold | 1GNEK13V22J189591 | Digital |
| | 44 | 2006 | Nissan | Altima S/Sl | 4 Door | Green | 1N4AL11D36C209331 | Digital |
| | 45 | 2006 | Chevrolet | Impala Ls | 4 Door | Silver | 2G1WB58KX69394427 | Digital |
| | 46 | 2007 | Chevrolet | Cobalt Ls | 4 Door | Gold | 1G1AK55F677142596 | Digital |
| | 47 | 2009 | Chevrolet | Hhr Lt | 4 Door | Silver | 3GNCA23B29S532463 | Digital |
| | 48 | 2004 | Toyota | Camry Le/Xle/Se | 4 Door | Red | 4T1BE32K54U272368 | Digital |
| | 49 | 1998 | Honda | Civic Dx | 2 Door | Silver | 1HGEJ6222WL064456 | 170778 |
| | 50 | 2005 | Lexus | RX 330 | 4 Door | Black | 2T2HA31U15C058503 | Digital |
| | 51 | 1985 | Chevrolet | C10 | Truck | Gray | 1GCDC14N8FF378870 | TMU |
| | 52 | 1990 | Cadillac | DeVille | 4 Door | Blue | 1G6CD5337L4351640 | TMU |
| | 53 | 2005 | Acura | RSX | 2 Door | Red | JH4DC54815S002839 | Digital |
| | 54 | 2000 | Buick | Lesabre Limited | 4 Door | Gold | 1G4HR54K1YU238943 | Digital |
| | 55 | 2007 | Buick | Lucerne Cx | 4 Door | Gold | 1G4HP57207U213869 | Digital |
| | 56 | 2002 | Chevrolet | Cavalier/Cavalier Cng | 4 Door | Silver | 1G1JC524627208976 | Digital |
| | 57 | 2002 | Nissan | Pathfinder Le | 4 Door | Silver | JN8DR09YX2W714884 | Digital |
| | 58 | 2006 | Mercury | Grand Marquis Ls | 4 Door | Silver | 2MEFM75V16X655336 | Digital |
| | 59 | 2007 | Ford | Focus Se | 4 Door | Gray | 1FAFP34NX7W309968 | Digital |
| | 60 | 1999 | GMC | K1500 Suburban | 4 Door | Black | 1GKFK16R5XJ811317 | 195334 |
| | 61 | 2004 | Volvo | Xc90 | 4 Door | Black | YV1CZ91H141064487 | Digital |
| | 62 | 1999 | Volvo | S80 | 4 Door | Silver | YV1TS97D7X1012827 | Digital |
| | 63 | 2002 | Chrysler | Town & Country Ex | Van | Red | 2C8GP74L52R504364 | Digital |
| | 64 | 2010 | Cadillac | Cts | 4 Door | Red | 1G6DM5EG1A0114411 | Digital |
| | 65 | 2003 | Honda | Accord Lx | 4 Door | Gold | 1HGCM56343A013575 | Digital |
| | 66T | 1980 | Chevrolet | C10 | Truck | White/Blue | CCL14AB128578 | TMU |
| | 67 | 1996 | Jeep | Grand Cherokee Limited | 4 Door | Red | 1J4GZ78S5TC207306 | Digital |
| | 68 | 2007 | Ford | Taurus Se | 4 Door | Silver | 1FAFP53UX7A121890 | Digital |
| | 69 | 2006 | Nissan | Quest Se | Van | White | 5N1BV28UX6N109053 | Digital |
| | 70 | 2005 | Chevrolet | Express G2500 | Van | White | 1GCGG25V451262891 | Digital |
| | 71 | 2003 | Ford | Expedition Xlt | 4 Door | Black | 1FMFU16LX3LB76638 | Digital |
| | 72 | 2011 | Volkswagen | Jetta Se | 4 Door | White | 3VWDX7AJ3BM330080 | Digital |
| | 73T | 1990 | Dodge | Dakota | Truck | Gray | 1B7FL23X2LS712797 | 202374 |
| | 74T | 1987 | Dodge | D-150 | Truck | Blue | 1B7HD14TXHS302736 | TMU |
| | 75 | 2013 | Ford | Fusion S | 4 Door | Silver | 3FA6P0G7XDR317868 | Digital |
| | 76 | 1997 | Lincoln | Town Car Executive | 4 Door | White | 1LNLM81W7VY734755 | Digital |
| | 77 | 2007 | Infiniti | M35 Sport | 4 Door | Black | JNKAY01F57M460319 | Digital |
| | 78 | 2007 | Chevrolet | Aveo Lt | 4 Door | Red | KL1TG566X7B085971 | Digital |
| | 79 | 2005 | Ford | Escape Xlt | 4 Door | Blue | 1FMCU93185KB12224 | Digital |
| | 80 | 1992 | Ford | Econoline E150 | Van | White | 1FDEE14N6NHA99821 | Digital |
| | 81 | 2012 | Chevrolet | Equinox Lt | 4 Door | Gray | 2GNALPEK3C6372059 | Digital |
| | 82 | 2001 | Chevrolet | Cavalier Cng | 4 Door | White | 1G1JC524017387644 | Digital |
| | 83 | 2006 | Cadillac | STS | 4 Door | Red | 1G6DW677260204526 | Digital |
| | 84 | 1997 | Chevrolet | Astro Van | Van | Brown | 1GNEL19W4VB154675 | Digital |
| | 85 | 2004 | Nissan | Altima Sl | 4 Door | Green | 1N4AL11E14C127748 | Digital |
| | 86 | 2002 | Dodge | Grand Caravan Sport | Van | Gray | 2B4GP44382R765033 | 227344 |
| | 87 | 1999 | Lexus | ES 300 | 4 Door | Burnt/Silver | JT8BF28G9X0168183 | Digital |
| | 89 | 2005 | Lexus | ES 330 | 4 Door | Black | JTHBA30G955096451 | Digital |
| | 90T | 2014 | Mazda | Mazda2 Sport | 4 Door | Blue | JM1DE1KZ5E0181463 | Digital |
| | 91 | 2003 | Jeep | Liberty Sport/Freedom | 4 Door | Red | 1J4GL48K93W700565 | REBUILT |
| | 92 | 2013 | Hyundai | Elantra Gls/Limited | 4 Door | Black | KMHDH4AE7DU637621 | Digital |
| | 93T | 2003 | Ford | Escort Zx2 | 2 Door | Red | 3FAFP113X3R164869 | REPAIRED |
| | 94S | 1997 | Toyota | Camry Le | 4 Door | White | 4T1BG22K9VU108725 | Digital |
| | 95 | 2011 | Chevrolet | Malibu 2Lt | 4 Door | White | 1G1ZD5EU9BF147611 | Digital |
| | 96 | 1999 | Chrysler | Cirrus Lxi | 4 Door | Red | 1C3EJ56H2XN665044 | Digital |
| | 97 | 2006 | Mini | Cooper | 2 Door | Gray | WMWRC33586TJ78864 | Digital |
| | 98 | 1996 | Chrysler | Sebring Jx | 2 Door | Red | 3C3EL45X2TT234811 | Digital |
| | 99 | 1995 | Toyota | Camry LE | 4 Door | Green | JT2SK12E9S0286220 | 123614 |
| | 100 | 1997 | Ford | Ranger Super Cab | Truck | White | 1FTCR15U7VTA34950 | 221773 |
| | 101 | 2003 | Buick | Park Avenue Ultra | 4 Door | White | 1G4CU541034203707 | Digital |
| | 102T | 1998 | Honda | Civic Lx | 4 Door | White | 2HGEJ6679WH555674 | 146653 |
| | 103 | 2003 | Dodge | Grand Caravan Sport | Van | Silver | 2D4GP44383R251612 | Digital |
| | 104 | 2005 | Saturn | Ion 2 | 4 Door | Silver | 1G8AJ54F25Z131800 | Digital |
| | 106 | 2008 | Chevrolet | Impala Lt | 4 Door | Silver | 2G1WT58N581277458 | Digital |
| | 107T | 2002 | Mitsubishi | Galant Es | 4 Door | White | 4A3AA46GX2E154487 | Digital |
| | 108 | 2007 | Chevrolet | Tahoe K1500 | 4 Door | White | 1GNFK13057R112392 | Digital |
| | 109 | 1992 | Ford | Explorer | 2 Door | Silver | 1FMCU24XXNUD87947 | Digital |
| | 110 | 2000 | Jaguar | S-Type | 4 Door | Black | SAJDA01CXYFL48969 | Digital |
| | 111 | 2000 | Infiniti | I30 | 4 Door | Gold | JNKCA31A7YT214074 | Digital |
| | 112 | 2006 | Nissan | Maxima Sl | 4 Door | Red | 1N4BA41E46C822062 | Digital |
| | 113 | 2007 | Jeep | Grand Cherokee Lar/Col/Fr | 4 Door | Green | 1J8GS48K87C641467 | Digital |
| | 114 | 2001 | Honda | Accord Lx | 2 Door | Silver | 1HGCG32461A016419 | Digital |
| | 115 | 2001 | Chevrolet | Cavalier/Cavalier Cng | 4 Door | Silver | 1G1JC524917188821 | Digital |
| | 116 | 2002 | Jeep | Grand Cherokee Laredo | 4 Door | Gray | 1J4GW48N82C191571 | Digital |
| | 117 | 1999 | Subaru | Legacy Outback | Wagon | Green | 4S3BG6854X6658693 | 190431 |
| | 118 | 2004 | Lincoln | Navigator | 4 Door | White | 5LMFU28R14LJ03406 | Digital |
| | 119 | 1999 | Buick | Park Avenue | 4 Door | Silver | 1G4CW52K4X4638998 | Digital |
| | 120 | 2011 | Hyundai | Sonata Se/Limited | 4 Door | Silver | 5NPEC4AB5BH317928 | Digital |
| | 121 | 2001 | Chrysler | PT Cruiser | 4 Door | Silver | 3C8FY4BB71T673234 | Digital |
| | 122 | 2000 | Toyota | Camry Ce/Le/Xle | 4 Door | White | 4T1BG28K5YU731593 | Digital |
| | 123 | 2009 | Dodge | Charger | 4 Door | Silver | 2B3LA43T59H513911 | Digital |
| | 124 | 2001 | Ford | Taurus Ses | 4 Door | Silver | 1FAFP55S41G113915 | 200732 |
| | 125 | 2000 | Dodge | Intrepid | 4 Door | Red | 2B3HD46R2YH212587 | Digital |
| | 126 | 2003 | Mitsubishi | Lancer Es | 4 Door | Black | JA3AJ26E83U035851 | Digital |
| | 127 | 1990 | Chevrolet | G20 | Van | White | 1GBEG25K8L7118451 | Digital |
| | 128 | 2001 | Ford | Taurus Ses | 4 Door | Black | 1FAFP55201G228589 | 158541 |
| | 129 | 1998 | Ford | Ranger Super Cab | Truck | Green | 1FTYR14C6WTA76106 | 182657 |
| | 130 | 2002 | Lexus | ES 300 | 4 Door | White | JTHBF30G025033042 | Digital |
| | 131 | 2013 | Cadillac | Xts Premium | 4 Door | White | 2G61S5S37D9104602 | Digital |
| | 132 | 2001 | Honda | Cr-V | 4 Door | Green | JHLRD187X1C005387 | 169709 |
| | 133T | 2004 | Toyota | Camry Le/Xle/Se | 4 Door | Silver | 4T1BE32K04U850523 | Digital |
| | 134 | 2008 | Nissan | Maxima Se/Sl | 4 Door | Black | 1N4BA41E18C803715 | Digital |
| | 135 | 1997 | Ford | Explorer Sport | 4 Door | Red | 1FMDU24E6VUD46007 | 147886 |
| | 136 | 2004 | Jeep | Grand Cherokee Lar/Col/Fr | 4 Door | Gold | 1J4GW48S24C292789 | Digital |
| | 137 | 1994 | Ford | F150 | Truck | Black | 1FTEF14N3RNB50961 | Digital |
| | 138 | 2000 | Honda | Accord | 4 Door | Blue | 1HGCG5641YA039249 | Digital |
| | 139 | 2000 | Ford | Expedition Eddie Bauer | 4 Door | Blue | 1FMEU1768YLB16563 | TMU |
| | 140 | 2001 | Lexus | GS 300 | 4 Door | White | JT8BD69S810122531 | Digital |
| | 141T | 1995 | Honda | Civic Ex | 4 Door | Blue | JHMEH9691SS020191 | TMU |
| | 142 | 1996 | Buick | Lesabre Custom | 4 Door | Silver | 1G4HP52K7TH408345 | Digital |
| | 143 | 2006 | Chrysler | 300 Touring | 4 Door | Green | 2C3KA53G76H220322 | Digital |
| | 144 | 1999 | Ford | Explorer | 4 Door | Gray | 1FMZU34E4XUB42398 | TMU |
| | 145 | 2006 | Dodge | Stratus Sxt | 4 Door | White | 1B3EL46R56N218829 | Digital |
| | 146 | 2005 | Dodge | Caravan | Van | White | 1D4GP21R45B383961 | Digital |
| | 147 | 1996 | Infiniti | I30 | 4 Door | Gray | JNKCA21D5TT006191 | 224389 |
| | 148 | 2004 | Volvo | V40 | Wagon | White | YV1VW27584F049705 | Digital |
| | 149 | 2000 | Toyota | Avalon Xl/Xls | 4 Door | Silver | 4T1BF28B9YU104219 | Digital |
| | 150 | 2016 | Kia | Forte Lx | 4 Door | Blck | KNAFK4A68G5511657 | Digital |
| | 151 | 2007 | Nissan | Altima S | 4 Door | Blue | 1N4AL21E87N491163 | Digital |
| | 152 | 2003 | Ford | Mustang | 2 Door | Purple | 1FAFP40403F396518 | TMU |
| | 154 | 2003 | Ford | Taurus Se | 4 Door | Blue | 1FAFP53U83G131289 | 170643 |
| | 155 | 2008 | Honda | Civic Hybrid | 4 Door | Gold | JHMES95695S020825 | Digital |
| | 156 | 1993 | Nissan | Sentra Xe | 4 Door | Red | 1N4EB31F9PC771799 | Digital |
| | 157 | 2004 | Mercedes-Benz | E 500 | 4 Door | Blue | WDBUF83J24X119960 | Digital |
| | 158 | 1995 | Pontiac | Grand Am Se | 2 Door | Green | 1G2NE15M8SM596550 | TMU |
| | 159 | 1999 | Toyota | RAV4 | 4 Door | Black | JT3HP10V0X7146663 | Digital |
| | 160 | 2005 | Toyota | Highlander Limited | 4 Door | Gold | JTEEP21A950129247 | Digital |
| | 161 | 2010 | Chevrolet | Malibu 2Lt | 4 Door | Red | 1G1ZD5E7XAF216377 | Digital |
| | 162 | 2007 | Chrysler | Sebring Touring | 4 Door | Gray | 1C3LC56K87N528834 | Digital |
| | 163 | 2006 | Chevrolet | Aveo LS | 4 Door | Red | KL1TD56606B672607 | Digital |
| | 164 | 2007 | Chevrolet | Cobalt Lt | 2 Door | Orange | 1G1AL15F677283688 | Digital |
| | 165 | 2004 | Dodge | Stratus Sxt | 4 Door | Gold | 1B3EL46X14N211386 | Digital |
| | 166 | 1996 | Ford | F150 | Truck | Green | 2FTEF14N6TCA25191 | Digital |
| | 167 | 1996 | Chevrolet | C1500 | Truck | Green | 2GCEC19M1T1170188 | 187528 |
| | 168 | 2009 | Chevrolet | Equinox Ls | 4 Door | Black | 2CNDL23F196233177 | Digital |
| | 169 | 2002 | Subaru | Forester L | 4 Door | Blue | JF1SF63542H701135 | Digital |
| | 170 | 1999 | Buick | Lesabre Custom | 4 Door | Gold | 1G4HP52K6XH419567 | 248033 |
| | 171 | 1997 | Dodge | Dakota | Truck | Black | 1B7GG26XXVS289457 | Digital |
| | 172T | 2005 | Infiniti | G35 | 4 Door | White | JNKCV51FX5M304885 | Digital |
| | 173 | 2007 | Nissan | Murano S | 4 Door | White | JN8AZ08W87W620707 | Digital |
| | 174 | 2005 | Ford | Taurus Se | 4 Door | Green | 1FAFP53255A129696 | Digital |
| | 175 | 2000 | Ford | F150 | Truck | White | 1FTZF1725YNB25061 | Digital |
| | 176 | 1997 | BMW | 740Il | 4 Door | Blue | WBAGJ8322VDM01795 | Digital |
| | 177 | 2001 | Mazda | Tribute Lx/Es | 4 Door | Blue | 4F2YU08111KM28427 | Digital |
| | 178T | 2002 | Ford | Explorer Xls | 4 Door | Gold | 1FMZU72E02ZB48897 | Digital |
| | 179 | 1999 | Lexus | LS 400 | 4 Door | Silver | JT8BH28F6X0150435 | Digital |
| | 180 | 2005 | Pontiac | Grand Am | 4 Door | Silver | 1G2NE52E55M242557 | Digital |
| | 181 | 2009 | Hyundai | Elantra Gls/Se | 4 Door | Black | KMHDU46D39U610435 | 135598 |
| | 182T | 1995 | Volvo | 850 Glt | 4 Door | Blue | YV1LS5513S2246547 | 207314 |
| | 183 | 2000 | Honda | Accord Se | 4 Door | Gold | 1HGCG567XYA055458 | Digital |
| | 185 | 2016 | Hyundai | Sonata Se | 4 Door | Silver | 5NPE24AF5GH363871 | Digital |
| | 186 | 2006 | Ford | Fusion Se | 4 Door | Black | 3FAHP07Z96R128366 | Digital |
| | 187T | 1995 | Lexus | LS 400 | 4 Door | Black | JT8UF22E6S0022610 | Digital |
| | 188 | 1998 | Toyota | Corolla Ve/Ce/Le | 4 Door | Silver | 2T1BR18E1WC087927 | Digital |
| | 189 | 2004 | Volvo | S60 | 4 Door | White | YV1RS59V942387584 | Digital |
| | 190 | 2001 | Ford | Taurus Lx | 4 Door | White | 1FAFP52251A272756 | 157422 |
| | 191 | 2006 | Buick | Lucerne Cxs | 4 Door | Gold | 1G4HE57Y26U199014 | Digital |
| | 192 | 2005 | Kia | Sorento Lx | 4 Door | Red | KNDJD733755425488 | Digital |
| | 193 | 2005 | Saturn | Relay 2 | Van | Red | 5GZDV03L35D272839 | Digital |
| | 194 | 1998 | Ford | Explorer XLT | 4 Door | White | 1FMZU34E9WUB96522 | 169115 |
| | 195 | 2009 | Ford | Escape Xlt | 4 Door | Gray | 1FMCU03G99KA20559 | Digital |
| | | | | | | | | |
| | | | | | | | | |
| | | | | | | | | |
| | | | | | | | | |
| | | | | | | | | |
| | | | | | | | | |
| | | | | | | | | |
| | | | | | | | | |
| | | | | | | | | |
| | | | | | | | | |
| | | | | | | | | |
| | | | | | | | | |
| | | | | | | | | |
| | | | | | | | | |
| | | | | | | | | |
| | | | | | | | | |
| | | | | | | | | |
| | | | | | | | | |
| | | | | | | | | |
| | | | | | | | | |
| | | | | | | | | |
| | | | | | | | | |
| | | | | | | | | |
| | | | | | | | | |
| | | | | | | | | |
| | | | | | | | | |
| | | | | | | | | |
| | | | | | | | | |
| | | | | | | | | |
| | | | | | | | | |
| | | | | | | | | |
| | | | | | | | | |
| | | | | | | | | |
| | | | | | | | | |
| | | | | | | | | |
| | | | | | | | | |
| | | | | | | | | |
| | | | | | | | | |
| | | | | | | | | |
| | | | | | | | | |
| | | | | | | | | |
| | | | | | | | | |
| | | | | | | | | |
| | | | | | | | | |
| | | | | | | | | |
| | | | | | | | | |
| | | | | | | | | |
| | | | | | | | | |
| | | | | | | | | |
| | | | | | | | | |
| | | | | | | | | |
| | | | | | | | | |
| | | | | | | | | |
| | | | | | | | | |
| | | | | | | | | |
| | | | | | | | | |
| | | | | | | | | |
| | | | | | | | | |
| | | | | | | | | |
| | | | | | | | | |
| | | | | | | | | |
| | | | | | | | | |
| | | | | | | | | |
| | | | | | | | | |
| | | | | | | | | |
| | | | | | | | | |
| | | | | | | | | |
| | | | | | | | | |
| | | | | | | | | |
| | | | | | | | | |
| | | | | | | | | |
| | | | | | | | | |
| | | | | | | | | |
| | | | | | | | | |
| | | | | | | | | |
| | | | | | | | | |
| | | | | | | | | |
| | | | | | | | | |
| | | | | | | | | |
| | | | | | | | | |
| | | | | | | | | |
| | | | | | | | | |
| | | | | | | | | |
| | | | | | | | | |
| | | | | | | | | |
| | | | | | | | | |
| | | | | | | | | |
| | | | | | | | | |
| | | | | | | | | |
| | | | | | | | | |
| | | | | | | | | |
| | | | | | | | | |
| | | | | | | | | |
| | | | | | | | | |
| | | | | | | | | |
| | | | | | | | | |
| | | | | | | | | |
| | | | | | | | | |
| | | | | | | | | |
| | | | | | | | | |
| | | | | | | | | |
| | | | | | | | | |
| | | | | | | | | |
| | | | | | | | | |
| | | | | | | | | |
| | | | | | | | | |
| | | | | | | | | |
| | | | | | | | | |
| | | | | | | | | |
| | | | | | | | | |
| | | | | | | | | |
| | | | | | | | | |
| | | | | | | | | |
| | | | | | | | | |
| | | | | | | | | |
| | | | | | | | | |
| | | | | | | | | |
| | | | | | | | | |
| | | | | | | | | |
| | | | | | | | | |
| | | | | | | | | |
| | | | | | | | | |
| | | | | | | | | |
| | | | | | | | | |
| | | | | | | | | |
| | | | | | | | | |
| | | | | | | | | |
| | | | | | | | | |
| | | | | | | | | |
| | | | | | | | | |
| | | | | | | | | |
| | | | | | | | | |
| | | | | | | | | |
| | | | | | | | | |
| | | | | | | | | |
| | | | | | | | | |
| | | | | | | | | |
| | | | | | | | | |
| | | | | | | | | |
| | | | | | | | | |
| | | | | | | | | |
| | | | | | | | | |
| | | | | | | | | |
| | | | | | | | | |
| | | | | | | | | |
| | | | | | | | | |
| | | | | | | | | |
| | | | | | | | | |
| | | | | | | | | |
| | | | | | | | | |
| | | | | | | | | |
| | | | | | | | | |
| | | | | | | | | |
| | | | | | | | | |
| | | | | | | | | |
| | | | | | | | | |
| | | | | | | | | |
| | | | | | | | | |
| | | | | | | | | |
| | | | | | | | | |
| | | | | | | | | |
| | | | | | | | | |
| | | | | | | | | |
| | | | | | | | | |
| | | | | | | | | |
| | | | | | | | | |
| | | | | | | | | |
| | | | | | | | | |
| | | | | | | | | |
| | | | | | | | | |
| | | | | | | | | |
| | | | | | | | | |
| | | | | | | | | |
| | | | | | | | | |
| | | | | | | | | |
| | | | | | | | | |
| | | | | | | | | |
| | | | | | | | | |
| | | | | | | | | |
| | | | | | | | | |
| | | | | | | | | |
| | | | | | | | | |
| | | | | | | | | |
| | | | | | | | | |
| | | | | | | | | |
| | | | | | | | | |
| | | | | | | | | |
| | | | | | | | | |
| | | | | | | | | |
| | | | | | | | | |
| | | | | | | | | |
| | | | | | | | | |
| | | | | | | | | |
| | | | | | | | | |
| | | | | | | | | |
| | | | | | | | | |
| | | | | | | | | |
| | | | | | | | | |
| | | | | | | | | |
| | | | | | | | | |
| | | | | | | | | |
| | | | | | | | | |
| | | | | | | | | |
| | | | | | | | | |
| | | | | | | | | |
| | | | | | | | | |
| | | | | | | | | |
| | | | | | | | | |
| | | | | | | | | |
| | | | | | | | | |
| | | | | | | | | |
| | | | | | | | | |
| | | | | | | | | |
| | | | | | | | | |
| | | | | | | | | |
| | | | | | | | | |
| | | | | | | | | |
| | | | | | | | | |
| | | | | | | | | |
| | | | | | | | | |
| | | | | | | | | |
| | | | | | | | | |
| | | | | | | | | |
| | | | | | | | | |
| | | | | | | | | |
| | | | | | | | | |
| | | | | | | | | |
| | | | | | | | | |
| | | | | | | | | |
| | | | | | | | | |
| | | | | | | | | |
| | | | | | | | | |
| | | | | | | | | |
| | | | | | | | | |
| | | | | | | | | |
| | | | | | | | | |
| | | | | | | | | |
| | | | | | | | | |
| | | | | | | | | |
| | | | | | | | | |
| | | | | | | | | |
| | | | | | | | | |
| | | | | | | | | |
| | | | | | | | | |
| | | | | | | | | |
| | | | | | | | | |
| | | | | | | | | |
| | | | | | | | | |
| | | | | | | | | |
| | | | | | | | | |
| | | | | | | | | |
| | | | | | | | | |
| | | | | | | | | |
| | | | | | | | | |
| | | | | | | | | |
| | | | | | | | | |
| | | | | | | | | |
| | | | | | | | | |
| | | | | | | | | |
| | | | | | | | | |
| | | | | | | | | |
| | | | | | | | | |
| | | | | | | | | |
| | | | | | | | | |
| | | | | | | | | |
| | | | | | | | | |
| | | | | | | | | |
| | | | | | | | | |
| | | | | | | | | |
| | | | | | | | | |
| | | | | | | | | |
| | | | | | | | | |
| | | | | | | | | |
| | | | | | | | | |
| | | | | | | | | |
| | | | | | | | | |
| | | | | | | | | |
| | | | | | | | | |
| | | | | | | | | |
| | | | | | | | | |
| | | | | | | | | |
| | | | | | | | | |
| | | | | | | | | |
| | | | | | | | | |
| | | | | | | | | |
| | | | | | | | | |
| | | | | | | | | |
| | | | | | | | | |
| | | | | | | | | |
| | | | | | | | | |
| | | | | | | | | |
| | | | | | | | | |
| | | | | | | | | |
| | | | | | | | | |
| | | | | | | | | |
| | | | | | | | | |
| | | | | | | | | |
| | | | | | | | | |
| | | | | | | | | |
| | | | | | | | | |
| | | | | | | | | |
| | | | | | | | | |
| | | | | | | | | |
| | | | | | | | | |
| | | | | | | | | |
| | | | | | | | | |
| | | | | | | | | |
| | | | | | | | | |
| | | | | | | | | |
| | | | | | | | | |
| | | | | | | | | |
| | | | | | | | | |
| | | | | | | | | |
| | | | | | | | | |
| | | | | | | | | |
| | | | | | | | | |
| | | | | | | | | |
| | | | | | | | | |
| | | | | | | | | |
| | | | | | | | | |
| | | | | | | | | |
| | | | | | | | | |
| | | | | | | | | |
| | | | | | | | | |
| | | | | | | | | |
| | | | | | | | | |
| | | | | | | | | |
| | | | | | | | | |
| | | | | | | | | |
| | | | | | | | | |
| | | | | | | | | |
| | | | | | | | | |
| | | | | | | | | |
| | | | | | | | | |
| | | | | | | | | |
| | | | | | | | | |
| | | | | | | | | |
| | | | | | | | | |
| | | | | | | | | |
| | | | | | | | | |
| | | | | | | | | |
| | | | | | | | | |
| | | | | | | | | |
| | | | | | | | | |
| | | | | | | | | |
| | | | | | | | | |
| | | | | | | | | |
| | | | | | | | | |
| | | | | | | | | |
| | | | | | | | | |
| | | | | | | | | |
| | | | | | | | | |
| | | | | | | | | |
| | | | | | | | | |
| | | | | | | | | |
| | | | | | | | | |
| | | | | | | | | |
| | | | | | | | | |
| | | | | | | | | |
| | | | | | | | | |
| | | | | | | | | |
| | | | | | | | | |
| | | | | | | | | |
| | | | | | | | | |
| | | | | | | | | |
| | | | | | | | | |
| | | | | | | | | |
| | | | | | | | | |
| | | | | | | | | |
| | | | | | | | | |
| | | | | | | | | |
| | | | | | | | | |
| | | | | | | | | |
| | | | | | | | | |
| | | | | | | | | |
| | | | | | | | | |
| | | | | | | | | |
| | | | | | | | | |
| | | | | | | | | |
| | | | | | | | | |
| | | | | | | | | |
| | | | | | | | | |
| | | | | | | | | |
| | | | | | | | | |
| | | | | | | | | |
| | | | | | | | | |
| | | | | | | | | |
| | | | | | | | | |
| | | | | | | | | |
| | | | | | | | | |
| | | | | | | | | |
| | | | | | | | | |
| | | | | | | | | |
| | | | | | | | | |
| | | | | | | | | |
| | | | | | | | | |
| | | | | | | | | |
| | | | | | | | | |
| | | | | | | | | |
| | | | | | | | | |
| | | | | | | | | |
| | | | | | | | | |
| | | | | | | | | |
| | | | | | | | | |
| | | | | | | | | |
| | | | | | | | | |
| | | | | | | | | |
| | | | | | | | | |
| | | | | | | | | |
| | | | | | | | | |
| | | | | | | | | |
| | | | | | | | | |
| | | | | | | | | |
| | | | | | | | | |
| | | | | | | | | |
| | | | | | | | | |
| | | | | | | | | |
| | | | | | | | | |
| | | | | | | | | |
| | | | | | | | | |
| | | | | | | | | |
| | | | | | | | | |
| | | | | | | | | |
| | | | | | | | | |
| | | | | | | | | |
| | | | | | | | | |
| | | | | | | | | |
| | | | | | | | | |
| | | | | | | | | |
| | | | | | | | | |
| | | | | | | | | |
| | | | | | | | | |
| | | | | | | | | |
| | | | | | | | | |
| | | | | | | | | |
| | | | | | | | | |
| | | | | | | | | |
| | | | | | | | | |
| | | | | | | | | |
| | | | | | | | | |
| | | | | | | | | |
| | | | | | | | | |
| | | | | | | | | |
| | | | | | | | | |
| | | | | | | | | |
| | | | | | | | | |
| | | | | | | | | |
| | | | | | | | | |
| | | | | | | | | |
| | | | | | | | | |
| | | | | | | | | |
| | | | | | | | | |
| | | | | | | | | |
| | | | | | | | | |
| | | | | | | | | |
| | | | | | | | | |
| | | | | | | | | |
| | | | | | | | | |
| | | | | | | | | |
| | | | | | | | | |
| | | | | | | | | |
| | | | | | | | | |
| | | | | | | | | |
| | | | | | | | | |
| | | | | | | | | |
| | | | | | | | | |
| | | | | | | | | |
| | | | | | | | | |
| | | | | | | | | |
| | | | | | | | | |
| | | | | | | | | |
| | | | | | | | | |
| | | | | | | | | |
| | | | | | | | | |
| | | | | | | | | |
| | | | | | | | | |
| | | | | | | | | |
| | | | | | | | | |
| | | | | | | | | |
| | | | | | | | | |
| | | | | | | | | |
| | | | | | | | | |
| | | | | | | | | |
| | | | | | | | | |
| | | | | | | | | |
| | | | | | | | | |
| | | | | | | | | |
| | | | | | | | | |
| | | | | | | | | |
| | | | | | | | | |
| | | | | | | | | |
| | | | | | | | | |
| | | | | | | | | |
| | | | | | | | | |
| | | | | | | | | |
| | | | | | | | | |
| | | | | | | | | |
| | | | | | | | | |
| | | | | | | | | |
| | | | | | | | | |
| | | | | | | | | |
| | | | | | | | | |
| | | | | | | | | |
| | | | | | | | | |
| | | | | | | | | |
| | | | | | | | | |
| | | | | | | | | |
| | | | | | | | | |
| | | | | | | | | |
| | | | | | | | | |
| | | | | | | | | |
| | | | | | | | | |
| | | | | | | | | |
| | | | | | | | | |
| | | | | | | | | |
| | | | | | | | | |
| | | | | | | | | |
| | | | | | | | | |
| | | | | | | | | |
| | | | | | | | | |
| | | | | | | | | |
| | | | | | | | | |
| | | | | | | | | |
| | | | | | | | | |
| | | | | | | | | |
| | | | | | | | | |
| | | | | | | | | |
| | | | | | | | | |
| | | | | | | | | |
| | | | | | | | | |
| | | | | | | | | |
| | | | | | | | | |
| | | | | | | | | |
| | | | | | | | | |
| | | | | | | | | |
| | | | | | | | | |
| | | | | | | | | |
| | | | | | | | | |
| | | | | | | | | |
| | | | | | | | | |
| | | | | | | | | |
| | | | | | | | | |
| | | | | | | | | |
| | | | | | | | | |
| | | | | | | | | |
| | | | | | | | | |
| | | | | | | | | |
| | | | | | | | | |
| | | | | | | | | |
| | | | | | | | | |
| | | | | | | | | |
| | | | | | | | | |
| | | | | | | | | |
| | | | | | | | | |
| | | | | | | | | |
| | | | | | | | | |
| | | | | | | | | |
| | | | | | | | | |
| | | | | | | | | |
| | | | | | | | | |
| | | | | | | | | |
| | | | | | | | | |
| | | | | | | | | |
| | | | | | | | | |
| | | | | | | | | |
| | | | | | | | | |
| | | | | | | | | |
| | | | | | | | | |
| | | | | | | | | |
| | | | | | | | | |
| | | | | | | | | |
| | | | | | | | | |
| | | | | | | | | |
| | | | | | | | | |
| | | | | | | | | |
| | | | | | | | | |
| | | | | | | | | |
| | | | | | | | | |
| | | | | | | | | |
| | | | | | | | | |
| | | | | | | | | |
| | | | | | | | | |
| | | | | | | | | |
| | | | | | | | | |
| | | | | | | | | |
| | | | | | | | | |
| | | | | | | | | |
| | | | | | | | | |
| | | | | | | | | |
| | | | | | | | | |
| | | | | | | | | |
| | | | | | | | | |
| | | | | | | | | |
| | | | | | | | | |
| | | | | | | | | |
| | | | | | | | | |
| | | | | | | | | |
| | | | | | | | | |
| | | | | | | | | |
| | | | | | | | | |
| | | | | | | | | |
| | | | | | | | | |
| | | | | | | | | |
| | | | | | | | | |
| | | | | | | | | |
| | | | | | | | | |
| | | | | | | | | |
| | | | | | | | | |
| | | | | | | | | |
| | | | | | | | | |
| | | | | | | | | |
| | | | | | | | | |
| | | | | | | | | |
| | | | | | | | | |
| | | | | | | | | |
| | | | | | | | | |
| | | | | | | | | |
| | | | | | | | | |
| | | | | | | | | |
| | | | | | | | | |
| | | | | | | | | |
| | | | | | | | | |
| | | | | | | | | |
| | | | | | | | | |
| | | | | | | | | |
| | | | | | | | | |
| | | | | | | | | |
| | | | | | | | | |
| | | | | | | | | |
| | | | | | | | | |
| | | | | | | | | |
| | | | | | | | | |
| | | | | | | | | |
| | | | | | | | | |
| | | | | | | | | |
| | | | | | | | | |
| | | | | | | | | |
| | | | | | | | | |
| | | | | | | | | |
| | | | | | | | | |
| | | | | | | | | |
| | | | | | | | | |
| | | | | | | | | |
| | | | | | | | | |
| | | | | | | | | |
| | | | | | | | | |
| | | | | | | | | |
| | | | | | | | | |
| | | | | | | | | |
| | | | | | | | | |
| | | | | | | | | |
| | | | | | | | | |
| | | | | | | | | |
| | | | | | | | | |
| | | | | | | | | |
| | | | | | | | | |
| | | | | | | | | |
| | | | | | | | | |
| | | | | | | | | |
| | | | | | | | | |
| | | | | | | | | |
| | | | | | | | | |
| | | | | | | | | |
| | | | | | | | | |
| | | | | | | | | |
| | | | | | | | | |
| | | | | | | | | |
| | | | | | | | | |
| | | | | | | | | |
| | | | | | | | | |
| | | | | | | | | |
| | | | | | | | | |
| | | | | | | | | |
| | | | | | | | | |
| | | | | | | | | |
| | | | | | | | | |
| | | | | | | | | |
| | | | | | | | | |
| | | | | | | | | |
| | | | | | | | | |
| | | | | | | | | |
| | | | | | | | | |
| | | | | | | | | |
| | | | | | | | | |
| | | | | | | | | |
| | | | | | | | | |
| | | | | | | | | |
| | | | | | | | | |
| | | | | | | | | |
| | | | | | | | | |
| | | | | | | | | |
| | | | | | | | | |
| | | | | | | | | |
| | | | | | | | | |
| | | | | | | | | |
| | | | | | | | | |
| | | | | | | | | |
| | | | | | | | | |
| | | | | | | | | |
| | | | | | | | | |
| | | | | | | | | |
| | | | | | | | | |
| | | | | | | | | |
| | | | | | | | | |
| | | | | | | | | |
| | | | | | | | | |
| | | | | | | | | |
| | | | | | | | | |
| | | | | | | | | |
| | | | | | | | | |
| | | | | | | | | |
| | | | | | | | | |
| | | | | | | | | |
| | | | | | | | | |
| | | | | | | | | |
| | | | | | | | | |
| | | | | | | | | |
| | | | | | | | | |
| | | | | | | | | |
| | | | | | | | | |
| | | | | | | | | |
| | | | | | | | | |
| | | | | | | | | |
| | | | | | | | | |
| | | | | | | | | |
| | | | | | | | | |
| | | | | | | | | |
| | | | | | | | | |
| | | | | | | | | |
| | | | | | | | | |
| | | | | | | | | |
| | | | | | | | | |
| | | | | | | | | |
| | | | | | | | | |
| | | | | | | | | |
| | | | | | | | | |
| | | | | | | | | |
| | | | | | | | | |
| | | | | | | | | |
| | | | | | | | | |
| | | | | | | | | |
| | | | | | | | | |
| | | | | | | | | |
| | | | | | | | | |
| | | | | | | | | |
| | | | | | | | | |
| | | | | | | | | |
| | | | | | | | | |
| | | | | | | | | |
| | | | | | | | | |
| | | | | | | | | |
| | | | | | | | | |
| | | | | | | | | |
| | | | | | | | | |
| | | | | | | | | |
| | | | | | | | | |
| | | | | | | | | |
| | | | | | | | | |
| | | | | | | | | |
| | | | | | | | | |
| | | | | | | | | |
| | | | | | | | | |
| | | | | | | | | |
| | | | | | | | | |
| | | | | | | | | |
| | | | | | | | | |
| | | | | | | | | |
| | | | | | | | | |
| | | | | | | | | |
| | | | | | | | | |
| | | | | | | | | |
| | | | | | | | | |
| | | | | | | | | |
| | | | | | | | | |
| | | | | | | | | |
| | | | | | | | | |
| | | | | | | | | |
| | | | | | | | | |
| | | | | | | | | |
| | | | | | | | | |
| | | | | | | | | |
| | | | | | | | | |
| | | | | | | | | |
| | | | | | | | | |
| | | | | | | | | |
| | | | | | | | | |
| | | | | | | | | |
| | | | | | | | | |
| | | | | | | | | |
| | | | | | | | | |
| | | | | | | | | |