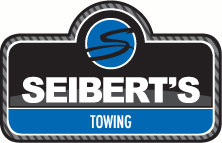 PICKING UP A TOWED VEHICLE
At Seibert's Towing we make every effort to protect your personal property while it is on our secured lot.  The following policies ensure that only the vehicle owner has access to the vehicle.  If we have towed your vehicle, we want to help you recover your vehicle as quickly as possible.
You must have the following items with you when picking up your vehicle from our facility:
Proof of Ownership (provide one of the following):

Current registration
Proof of current insurance
Title with your name printed on it. Open titles (a title that has been signed over to you but not registered at DMV) will not be accepted.
If you are picking up a vehicle you have rented, we will need approval from the rental company to release vehicle.

Photo Identification (provide one of the following)

Current driver's license
Government identification cards (state or federal)
Picture identification cards generated by a reputable agency, i.e., DMV, banks, schools, employer, etc.

Acceptable Form of Payment

Cash
Credit card: Visa, MasterCard, Discover Card, or American Express.
No personal checks accepted.
Normal business hours are 7:00 AM to 8:00 PM.  It is strongly recommended that you call ahead if you wish to pick up your vehicle outside of normal business hours. If you are not able to pick up your vehicle right away or if your insurance company is handling disposal of the vehicle, you will be allowed two free visits to the vehicle to retrieve personal property. You must complete a Seibert's Lot Entrance Acknowledgement form to gain access to the vehicle.  NOTE:  If your vehicle was towed for an accident, you cannot remove it or access it on Saturday or Sunday.
The following items will not be removed from the vehicle:
Mounted speakers
Radios/CD Players/ cassette players/DVD players
Wheels and tires
Anything permanently mounted or attached to the vehicle.
Any part of the vehicle that aids in the operational functions of the vehicle.
License plates may only be removed after payment arrangements have been finalized.
Personal property contained within the vehicle, but not attached to it, may be picked up until 5:00 PM on the Wednesday prior to the date it will be auctioned.  No access will be given to any vehicle after 5:00 PM on Wednesday prior to the auction date.  There is no charge to remove personal property from your vehicle, but we do require a photo ID and proof of ownership.  You are permitted two visits to your vehicle to remove personal items.